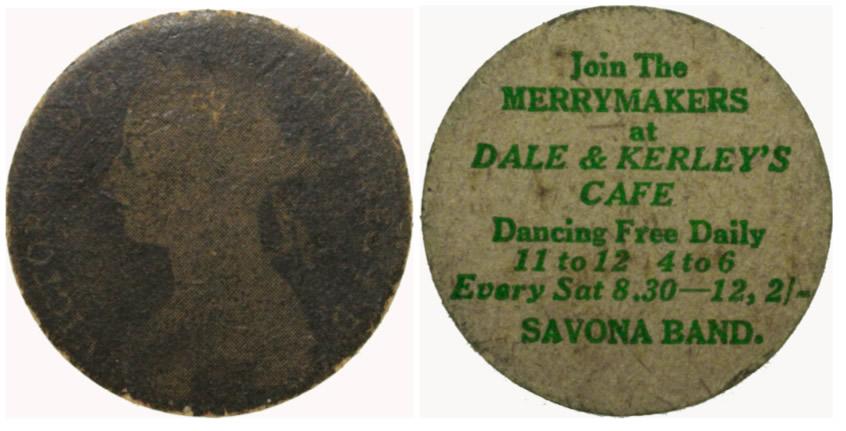 This is a very rare and interesting cardboard 'coin' which shows that you cannot rely on a date, or portrait that appears on a coin.
What appears to be the obverse imitates a Victorian period penny. The other side announces: Join The MERRYMAKERS at DALE & KERLEY'S CAFÉ Dancing Free Daily 11 to 12 4 to 6 Every Sat 8.30—12, 2/- SAVONA BAND. Diameter 30.2mm. Die axis 0°
No town is mentioned, and no other clues, and indeed it would appear that Dale and Kerley didn't have what most folk would consider to be a proper seaside café either. Nor has this piece of ephemera anything to do with queen Victoria, despite it bearing a portrait of her on the obverse ! A google search brought up a reference to the name of a department store in Eastbourne. Now as well as the online directories that are available on the internet, we have a library of some 500 directories, ranging from about 1820 to 1910 in time, and geographically from Cornwall to Cumbria, and from those we learned that Dale & Kerley were haberdashers and ladies' outfitters, not a café. They first appear in one of 'our' directories in 1899 when they were selling their wares from 15-17 Seaside Road. By the next directory, 1909, they had expanded by taking over 1 and 3 Terminus Road, which were the adjoining premises on the corner of the next street. If you were a posh Edwardian lady you went to them for your clothing needs. So, is this when the cardboard coin was made ? We could find nothing that linked it to the Victorian period, or indeed a café. However, further trawling on the internet did reveal that Dale & Kerley did indeed open a café on their premises where the wealthier ladies could go and sip coffee in the halcyon inter-war years when the depression had given way to the flappers. In the 1930s the larger well-to- do lady could get a made-to-measure corset fitting at Dale & Kerley's by an expert fitter, whilst her lighter and more nimble daughter could dance to the music of the Savona Band. As someone who can remember corsets, and their successor the M & S panty-girdle, which must have been one of the best-ever forms of contraception devised after the chastity belt. Despite its name, the Savona Band has no connection to soap. It was founded by Cecil Sapseid, who played under the name 'Dick Sapper', he was known to his friends as 'Sapper' and work colleagues as 'Dick'. He was born in 1906 in Marylebone, London and died in Capetown, South Africa.
Before the war he had a small dance orchestra known as 'Cecil Sapseid and His Savona Band' which played in hotels mainly in Eastbourne and by 1934 included a large and remarkable xylophone among its attractions.
According to his son, all the members of the band were called up together into the Royal Army Ordnance Corps. He could not find a listing on ENSA, but know they entertained the troops because he father said so. He continues:
"In 1948 he, together with my mother Marjorie and myself, emigrated to Lusaka, Northern Rhodesia, now Zambia, where he joined the NR Government as Assistant Broadcasting Officer in the Central Africa Broadcasting Service. One of his duties was to go with recording engineers into rural areas to record tribal music on reel to reel recording equipment for re- broadcast on the African Service. It was this music that influenced his composing music such as Imbote, based on a traditional beer drinking song. The copyright for this particular piece of music was bought by Decca Music and subsequently recorded by both Bert Kaempfert and Dan Hill; the latter being credited with the composition on some recordings, together with my father's associate, Aleck Nkhata. The original records that I have show both Sapseid/Nkhata as composers. The Bert Kaempfert version can be heard on line on Orchestral Wonderland Volume 1.
During his time in Lusaka he recorded a weekly musical programme for broadcast on the English Service Radio and also wrote a weekly comedy show for the same broadcasting service.
He left Government for a while to become the resident musician at the Ridgeway Hotel, Lusaka, but returned to Government service at the formation of The Federation of Rhodesia and Nyasaland and transferred to Salisbury (now Harare, Zimbabwe) as Director of African Broadcasting.
Just prior to the Declaration of Independence of Rhodesia in 1965 my parents returned to the UK to run a village store in Balcombe, East Sussex. The lure of Africa and distance from my family brought them back to Salisbury, then on to retire for a second time in Capetown. My father had only been there a few months when he sadly died of a cerebral haemorrhage. Unfortunately I am unaware of any music composed by him other than Imbote (pronounced Im- bow-TAY) and I would be grateful for more information. During his time of composing I was away at boarding school and was unaware of this side of him as he mostly played dance music and music from the shows."