---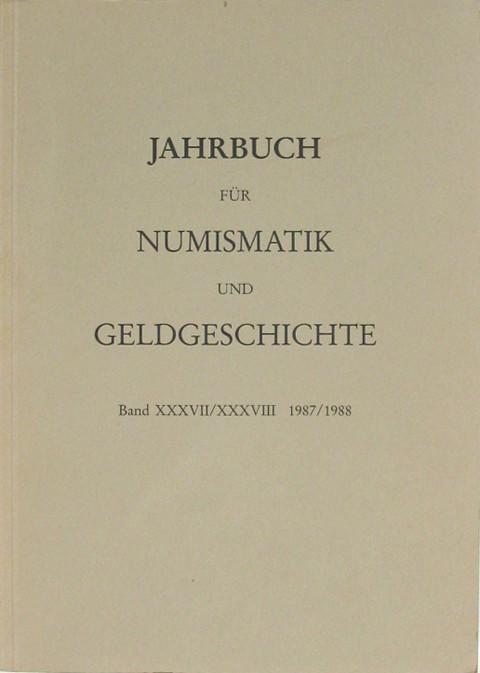 Jahrbuch fur Numismatik und Geldgeschichte Band 37 - 38 1987-88
---
Hess, Wolfgang, Dietrich Klose und Bernhard Overbeck (eds)
Die Bayerische Numismatische Gesellschaft.  PB 1987-88.  156pp + 22 plates. 166 x  242mm.  Articles with English titles are in English, the others are in German.
Gerd Dethlefs: Eine keltische Goldmünze aus dem Schatzfund von Gaggers (1751) J Elayi & A G Elayi: Systems of Abreviations used by Byblos, Tyre and Arwad in their pre-Alexandrine Coinages.  David MacDonald: The Significance of the 'Boiotian League/Chalkis' Silver Issue.  Peter F Dorcey: The Posthumous Alexander Tetradrachms of Odessos.  Allan A Lund: Wie benutzten die Germanen zu Tacitus' Zeiten die römischen Münzen ?  Volker Zedelius: Ein weiterer Aureus des Pescennius Niger.  E Meyer: Die Bronzeprägung von Laodikeia in Syrien 194/217.  J Nollé: Zwei Bleigewichte der Staatlichen Münzsammlung in München.  Otto Kozinowskio: Saalfeld als Münzstätte der Leininger Münzen von 1804 und 1805. - Zugleich ein Beitrag zum Münzwesen des Fürstentums Sachsen-Coburg zu Beginn des 19. Jahrhunderts.  Plus reviews, obituaries, etc.
Almost as new.
---
The contents of this website including images are Copyright 2020 Galata - All Rights Reserved.
The item has been added to your basket