---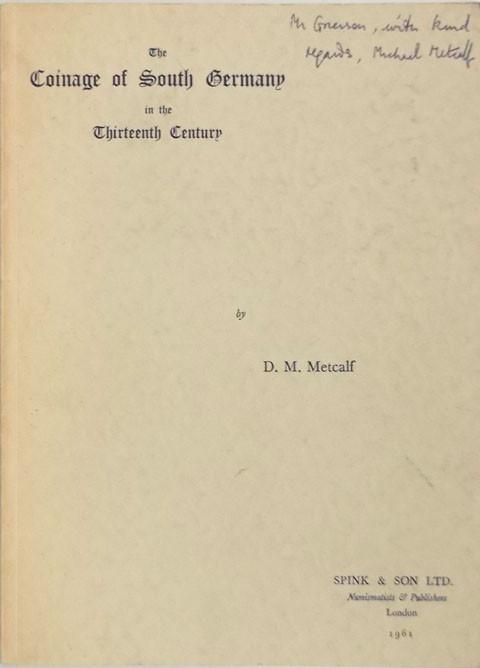 The Coinage of South Germany in the Thirteenth Century. Ex Grierson.
---
David Michael Metcalf.  Published by Spink & Son Ltd., London. 1961.  PB  79 pages.  Illustrated with many hundreds of good line drawings.  180 x 246mm.  Identifies the medieval coinage of South Germany - including Swabia, Bavaria and parts of Switzerland. No dw (as published). The blank spine has its title neatly inscribed upon it in black ink.  A few pencil annotations in the text, otherwise a very good clean copy.  From the library of Prof. Philip Grierson with his ex-libris.  On the cover, in biro is the author's signature and a short dedication to Mr Grierson, who is also thanked in the preface. 


An important, well-researched book, the size of which belies its importance.  It describes the coinage of the area and how it circulated. It looks at the evidence of coinage hoards.  Areas, cities and rulers are described and identified and often given short biographies.  Densely packed with information.  This book should be in everyone's numsmatic library as an example of a good book.
---
The contents of this website including images are Copyright 2020 Galata - All Rights Reserved.
The item has been added to your basket