---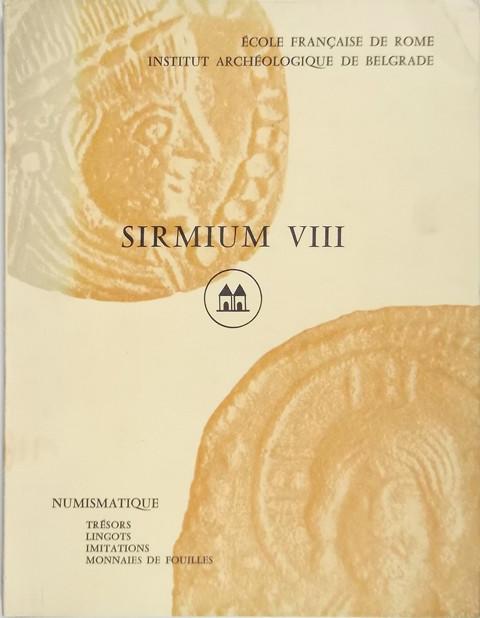 Sirmium VIII : Numismatique - Tresors, Lingots, Imitations, Monnaies de Fouilles.
---
Editors: Noel Duval and Vladislav Popovic (contributing). Authors: Claude Brenot, F Baratte, M Vasic and V Popovic.  Jointly published by Ecole française de Rome, and the Institut Arch. de Belgrade. Contents :  Five Chapters :  1 Tresors de Bickic-Do.  2  Lingots d'or et d'argent.  3  A fourth and 5th centuries hoard of Roman coins and imitations in Belgrade.  4  Tresors du IVe siecle de Boljetin.  5 Monnaies byzantines de Musee de Srem.  PB with dust jacket. 1978.  x + 209 pages + 24 good b&w plates + a separate fold-out map, and errata slip. 217mm x 280mm.  Part of front of dust jacket faded and top right corner heavily bumped, otherwise a very good copy with a good jacket.  From the library of Philip Grierson, with his ex-libris.
Gold and silver ingots - Roman Coins, Byzantine Coins including anonymous folles, hoards and their metrology. Imitations.
---
The contents of this website including images are Copyright 2020 Galata - All Rights Reserved.
The item has been added to your basket